Skills
Skills are an important part of any RPG game. You can roll skills by using the Common Tasks/Right-Click Menu or using the Common Tasks/Shortcuts key (K). You can also make a skill roll from your character sheet while in the Skills tab, Double Click on the Blue Die next to the skill you wish to roll.
Character Sheet Access

Blue Die: Allows you to make a skill roll using the selected skill by clicking on the die.
Mod Column: Shows the skills current total Modifier.
**Name Column: Shows the skill name.
Ability Column: The skills associated Ability Stat.
Proficiency/Ranks Column: The skills number of Proficiencies or Ranks.
Misc Column: The skills Misc Modifier applied to the skill roll.
Add Button: Pulls up an availibe list of skills to add to your characters. Shift Click to Multi-Add to selection. Ctl+Click to selectively add to selection.
Delete Button: Deletes a selected skill from your current skill list.
Show All Toggle: Filters user skill list by all.
Proficient/Ranked Toggle: Filters user skill list by Proficient/Ranked Skills.
NonProficient/UnRanked Toggle: Filters user skill list by NonProficient/UnRanked Skills.
Proficienies/Ranks: Shows Total number of Proficienies or Ranks.
Penalty Button: Show a dialog with which you apply a Skill penalty mod to a particular Stat or combination of stats.

Right-Click Menu Access

This menu is broken up by category, some examples are listed below. Clicking on the Skill name and then the OK Button will roll that skill.
Recent Skills: Show recently rolled skills.
General Skills: Show General skills category.
All Skills: Show all skills.
Skill Result Output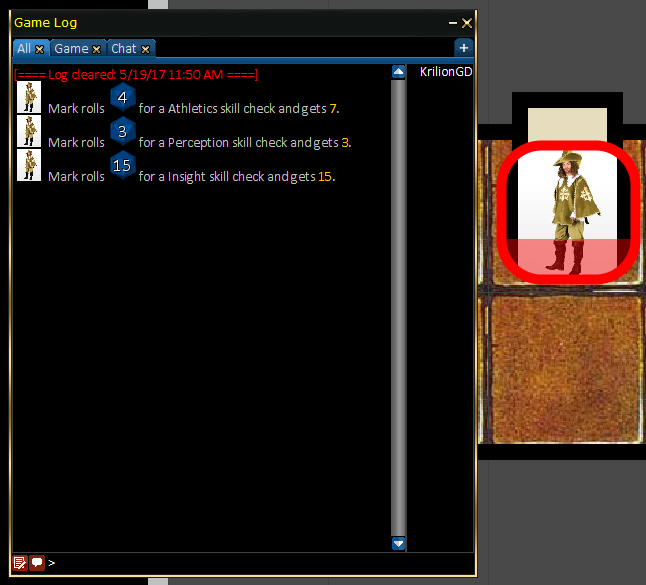 The Common tasks/Game Log shows the icon of the token/character making a skill roll as well as the dice rolled and modified result of the roll.