Join Game Menu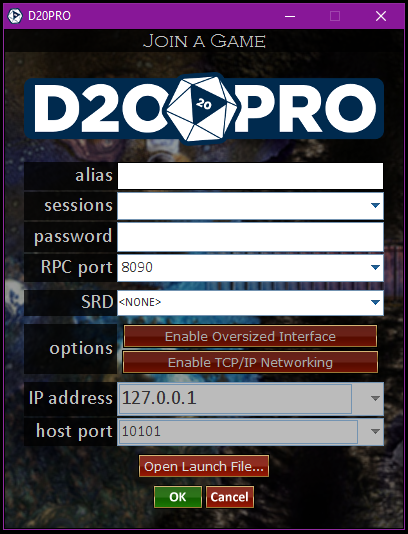 Alias
The name you will use as a player. This is also what shows in the game log.
Sessions
Presents a list of running games. Your GM should let you know the session name of his game so that you can select it from this list.
Password
Your game masters password goes here.
RPC Port
The port used by the session. You should not need to change this.
SRD
The System Refernce Document you would like to use for your game session.
Options
Enable Oversized Interface -- for use with touch screens to make menus and GUI easier to navigate.
Enable TCP/IP Networking -- Unlocks Direct Connection IP and Port fields lower down on the screen.
Please note; You can not mix connection methods. Everyone (including the host) must either use the new Sessions method or the direct TCP/IP method.
If you are using TCP/IP you may find using Beacon easier than fighting wtih Firewalls and Routers.
IP Address
Used for Direct Connections. Your GM will provide you with an IP address if required.
Port
Used for Direct Connections. Your GM will provide you with a Port Number if required.
Open Launch File
Opens a pre configured launch file.
OK
Processes the launch perameters and tries to connect with the given information.
Cancel
Cancels the operation and goes back to the main Launcher screen.