Fog of War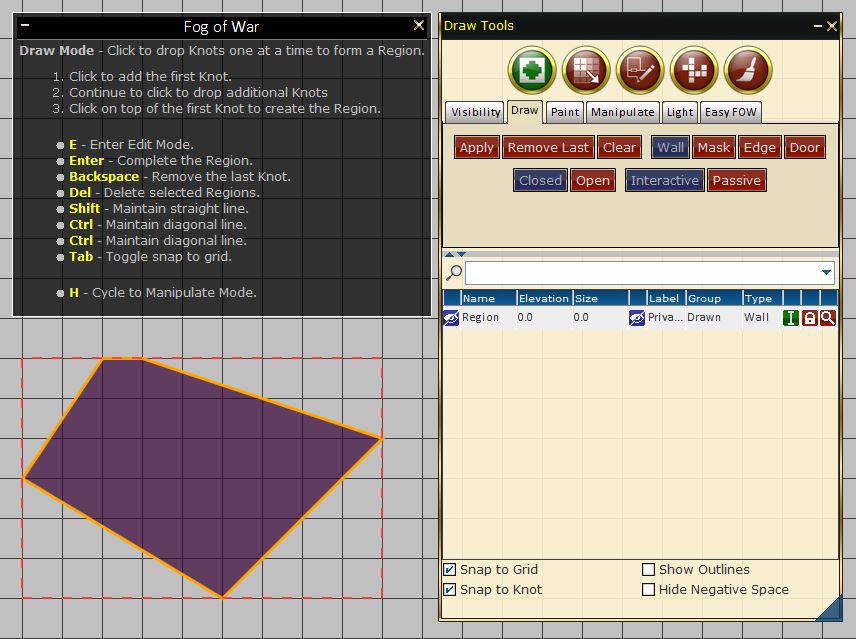 Draw Tools for Fog Of War.

Draw Tools - Main Elements
Apply --
Remove Last: Removes the last element placed.
Clear: Clear any current element in progress.
Wall: Uses the Wall type.
Mask: Uses the Mask type.
Edge: Uses the Edge type.
Door: Uses the Door type.
Closed: Creates Closed objects.
Open: Creates Open ended objects.
Interactive: Indicates an Interactive type which is interactive and responcive to the use of Lights.
Passive: Uses the Passive type wich is either on/off (visible/not visible). This type does not require the use of Lights.
Table Entries
Active/Inactive: Togles the visibility of the element.
Name: Friendly name to help you know what elements are.
Active/Inactive: Toggles the visibility of the element.
Elevation: Elevation z level for creating elements based on Elevation.
Size: Controls Element Size.
Label Icon: Toggles the show/hide of the element Label.
Label: Friendly Label of the element.
Group: Element type group.
Type: Element type.
Interactive/Passive Icon: Toggles the element as Interactive or Passive.
Lock Icon: locks or Unlocks the element for editing.
Magnifying Glass: Shifts focus to the selected element.
Lower Toggle Boxes
Snap To Grid: Snaps nodes to Grid corners.
Snap To Knot: Snaps nodes to placed knots/nodes.
Show Outlines: Shows outlines of elements.
Hide Negative Space: Legacy Option to auto-hide any area of the map that is not covered by an Element type.
Paint
The Paint operation allow you to drop shapes on your map. It also allows for the easy placement of Doors.